This page is part of © FOTW Flags Of The World website
Historical flags of Cameroon
Last modified: 2013-04-04 by peter hans van den muijzenberg
Keywords: cameroon | cameroun | africa | panafrican colours | star (yellow) | crab | stars: 2 |
Links: FOTW homepage | search | disclaimer and copyright | write us | mirrors

---
See also:
---
In contrast to the territories of the British Empire, virtually all of which were granted a distinctive heraldic and vexillological identity, German colonies and protectorates did not have their own heraldic devices or flags. Following in the Portuguese and Dutch colonial practice, the Germans treated their overseas possessions an an integral part of one empire and consequently the Imperial German arms and flags were used throughout the Empire.
Bruce Berry, 13 Feb 1998
The Secretary of State of the Reichskolonialamt (Imperial Colonial Office), Dr Wilhelm Solf, made a tour of inspection through the German "Schutzgebiete" (areas of protection), as the colonies were called by Germany, in 1912 and 1913. During this visit he was also allowed to go to some British colonies. After returning to Germany, Solf gave a report to Kaiser Wilhelm II, during which he especially emphasized the positive effects the colonial emblems had regarding the native people. Wilhelm II was impressed and gave instructions to Solf to design Coat-of-Arms and flags for the German colonies. Supported by Herzog Johann Albrecht von Mecklenburg-Schwerin, Solf thoroughly investigated the history of the German colonies and chose symbols that were characteristic for the specific area. After some modifications, Kaiser Wilhelm finally approved the drafts by the middle of 1914. Altogether, Solf created six different Coat-of-Arms, one for each colony. All shields were topped by the Reichs-Eagle and the Imperial crown and displayed typical elements from the respective colony. In the case of Kamerun, the shield of showed the head of an elephant.


Coat of Arms reconstruction by Fornax, 25 April 2011
Flag reconstruction by Fornax, 25 April 2011 based on discoveries of Harry D. Schurdel (2010)
Flag reconstruction by Fornax, 25 April 2011 based on material in Bundesarchiv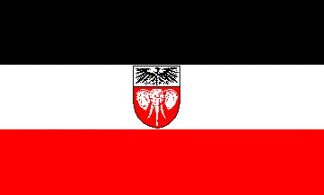 Mark Sensen, Feb 1998 based on traditional interpretation from Afrika-Nachrichten (1933)
Following the outbreak of World War I in August 1914, all plans for introducing the new colonial coat-of-arms and flags was postponed. After the defeat of Germany in 1918, it was obvious that neither arms nor flags would become official symbols of German colonies as each became League of Nations mandate territories. Rolf's proposals were thus never implemented.
Valentin Poposki, 26 April 2011
---
Colonial Flag of British Cameroon?
Image sent by Jaume Olle, 11 June 2012
Question from FOTW message board: Did the United Kingdom Trust Territory of Southern Cameroons have a flag badge when it was administratively separated from Nigeria in 1960 until it was absorbed into The Republic of Cameroun in 1961, and if so what was it like?

A badge existed, but it wasn't officially approved. This badge features a double circle with inscription "Southern Cameroon" and within the inner circle a group of bananas.
Jaume Ollé, 09 April 2000
I think it probable that this badge, as described by Jaume, was not a badge of Southern Cameroons until after it had become a region of the Republic of Cameroon which has two official languages, English as well as French.
David Prothero, 04 May 2000
The official badge which had been used under the British trusteeship (showing bananas) was abandoned when the British Union Flag was lowered over Buea (the capital of Southern Cameroon). So far as is know, these territories did not have distinctive flags or badges of their own.
Jaume Olle, 17 April 2001
This badge was proposed in 1922. It is shown in "Badges of the British Commonwealth - Defaced flag and Ensigns" by Rudy Longueville - both 1998 and 1999 editions.
Jaume Olle, 11 June 2012
Thank you for your last reply Jaume. Your data has been helpful on the topic of alleged flag of British Southern Cameroons. If the badge was proposed in 1922, then is there a reason why it was only promoted after 1954? Or perhaps my dates are wrong. Perhaps the defaced ensign with the British Cameroons badge should be c.1922 - 1954 and the one with Southern British Cameroons 1954-1961?
Ben Cahoon, 13 June 2012
In January 1998 Rudi Longueville sent me an illustration of the Southern Cameroons badge that is mentioned in Jaume's message. He wrote "proposed badge, information from internet". He retained "proposed" in all copies of 'Badges of the British Commonwealth' that I have seen. Both Northern and Southern Cameroons were administered as part of Nigeria. It is likely that the badge remained a proposal that was never implemented.
David Prothero, 13 June 2012
Following the Treaty of Versailles, the German territory of Kamerun was divided on 28 June 1919 between a French and British League of Nations mandate. The French mandate was called Cameroun and was the larger territory in terms of area. The British mandate comprised two geographically separate areas called Northern Cameroons and Southern Cameroons, both of which were administered from the British Resident Commissioner in Nigeria.
Following the dissolution of the League of Nations in 1946, most territories were reclassified as UN Mandate Territories and administered through the UN Trusteeship Council. The objective of the trusteeship was to prepare these territories for independence.
Southern Cameroons was divided into two provinces in 1949 - Bamenda and Southern. Following the Ibadan General Conference (1950), a new constitution for Nigeria provided for the devolution of power to the various regions. In the subsequent election, Southern Cameroons elected 13 representatives to the Eastern Nigerian House of Assembly. In 1953, following unhappiness with the attitude of the Nigerians and lack of unity amongst the ethnic groups in the Eastern Region, the Southern Cameroons representatives declared "benevolent neutrality" and withdrew from the assembly. At a Conference in London held between 30 July and 22 August 1953, the British government agreed to the Southern Cameroons request to set up a separate region of their own. Southern Cameroons thus became an autonomous region with its capital at Buea. Following elections held in 1954, its own parliament met on 01 October 1954.
Following a UN organised plebiscite on 11 February 1961 where the alternatives were union with Nigeria or union with Cameroun, Northern Cameroons voted for union with Nigeria and Southern Cameroon voted for union with (formerly French) Cameroun. Southern Cameroons became part of Cameroon on 01 October 1961.
I suspect that the 1922 badge (with a different inscription) was proposed for British Cameroon ( Northern and Southern together) and was never used. The same badge for Southern Cameroons only was resuscitated in 1954 and used perhaps until 1960.

This explanation was published in Flag Report 20, January 2000
Jaume Olle , 15 June 2012
The name 'British Cameroons' ceased to be used after 1930, after which 'Cameroons under British Mandate' was substituted for 'British Cameroons' in Nigerian documents" [National Archives CO 323/1091/5].
David Prothero, 04 July 2012
---
First national flag (1957-1961)
Image by Vincent Morley, 25 May 1997
The September 1961 issue of the 'National Geographic' magazine contains an article about the flags of the 99 states which were then members of the United Nations. They write: "Cameroon citizens last year adopted an unadorned tricolor: green for the luxuriant vegetation of the south, red for sovereignty, and yellow for the sunshine of this African nation's northern region. Joined U.N. 1960."
Jarig Bakker 18 August 2003
The first flag of Cameroon was adopted by Law 46 dated 29 October 1957 and confirmed by the Constitution of 21 February 1960 following independence on 01 January 1960.
Jaume Olle, 18 Aug 2003
Christian Fogd Pedersen gives the dates for the plain tricolour as 1957-1961.
Christopher Southworth 18 Aug 2003
---
Second national flag (1961-1975)
Image by Željko Heimer, 13 Oct 2001
The flag with two stars was introduced on 01 October 1961 (although designed in April), and that was in turn replaced with a single star flag on 20 May 1975.
Jaume Olle 18 August 2003
To symbolize the new federation, two gold stars (note that they are not the same yellow as the stripe) were added to the green stripe of the flag. This flag was adopted on 01 October 1961. From The Flag Bulletin (number 2) [tfb] the ratio is 24:38 (hoist stripe is 13, central stripe is13 and the fly stripe is 12). The stars are vertically centered in canton the canton of the hoist stripe.
Jaume Olle, 17 April 2001
The 1961-75 flag of Cameroon was a vertical tricolour of green-red-yellow with two yellow stars in the canton of the green stripe. It was adopted when the former British territory of Southern Cameroon voted to join French Cameroun which became independent in 1957. The two stars signified the two territories making the federation of Cameroon. In 1972 Cameroon became a unitary state and the second star was subsequently dropped from the flag in 1975 when the current flag was adopted.
Stuart Notholt 30 November 1995
Pedersen's The International Flag Book in Color (1971) [ped71] shows the flag of Cameroon as a vertical tricolor of green-red-yellow with two gold (darker yellow then the third vertical stripe) stars in the upper half of the green.
Michael Smuda, 20 July 1998