This page is part of © FOTW Flags Of The World website
Binational Flags and Proposals (Israel-Palestine)
Last modified: 2012-08-25 by eugene ipavec
Keywords: palestine | israel | al-falasteen | yisrael | olive branch | breaking the ice | doves: 2 (white) | peace flag | binationalism |
Links: FOTW homepage | search | disclaimer and copyright | write us | mirrors

---
Peace Flags:
Political Art:
Binational State Proposals:
---
See also:
---
Israel-Palestine Peace Flag

image by Eugene Ipavec, 12 Mar 2012
In news video footage (France 3, 07 Jun 2011), Bernard Genin, Mayor of Vaulx-en-Velin, shows a flag he brought back from a trip to Palestine.
Ivan Sache, 30 Sep 2011
(The image is missing three small inscriptions, one in Hebrew, one in Arabic, and one illegible. The Hebrew one is "[something] peace" (... שלום); the Arabic is probably the equivalent.
Eugene Ipavec, 15 Mar 2012
It misses a fourth inscription as well: at the bottom, only visible in those shots that show almost the entire flag unobscured is yet another inscription.
Peter Hans van den Muijzenberg, 16 Mar 2012
---
"Breaking the Ice" Project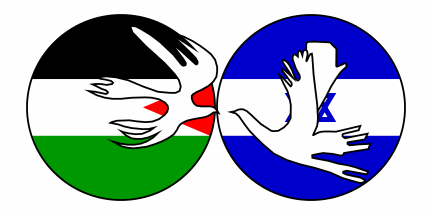 image by Eugene Ipavec, 15 Dec 2010

«Breaking the Ice» is a peace project by Israelis and Palaestinians. A mixed group is on the way to climb together a mountain in the Antartica for the first time to show that is possible for the peoples to work together and to trust each other. German TV ARD shows this week several reports of the journey. The first part was a sailing trip. On the boat was set the project flag.

Jan-Patrick Fischer, 15 Jan 2004

In a Yahoo News photo (ephemeral url) an Israeli/Palestinian peace flag can be seen, captioned:
Unidentified young Palestinians and Israelis from the University of Haifa in Israel pose while displaying a flag symbolizing the peace between their two countries on the summit of Mont Blanc, in the French Alps, Thursday, Aug. 5, 2010. The expedition organised by the 'coexistences association' is led by Swiss mountaineer Jean Troillet and is supported by the cities of Chamonix, Coumayeur and Haifa.
White flag with two circular segments of the IL and PS flags, over which there are superimposed two (rather ragged-looking) white birds (doves, I guess) in flight.

Eugene Ipavec, 15 Dec 2010

The flag is only Israeli. There are no Palestinian students at the University of Haifa. Those students were sent by The Jewish-Arab Center in this University and are all Israelis (Jews and Arabs).

You can read about it at http://www.coexistences.ch/pdf/JewishArabCenter.pdf.

Dov Gutterman, 20 Dec 2010

It seems that the birds have eyes, and the Magen David is solid?

António Martins-Tuválkin, 16 Dec 2010

I don't think the ones in the photo did... the drawing could have been a prototype.

Eugene Ipavec, 22 Dec 2010

It would appear each dove was drawn to hide most of the specific charge of the flag it is on. Also, the blue stripes are rather wide, for a flag of Israel. Both, I guess, to create two similar flags that each consist mostly of a white stripe with coloured stripes above and below.

Peter Hans van den Muijzenberg, 08 Jan 2011
---
Composite Flag in Atlantic Monthly Illustration

image by Eugene Ipavec, 12 Mar 2012
The May 2008 issue of the US newsmagazine the Atlantic Monthly featured a story with the provocative title "Is Israel Finished?", specifically on the danger to its stability and character posed by Arab demographic growth. The article suggested that the inextricability of the two peoples may result in a binational outcome becoming inevitable, a point illustrated by the cover image, a composite Israeli-Palestinian flag.
Eugene Ipavec, 12 Mar 2012
---
Composite Flag from Unidentified Illustration

image by Eugene Ipavec, 12 Mar 2012
---
"One-State Solution" Proposals
| | | | |
| --- | --- | --- | --- |
| | |   |   |
| images by Eugene Ipavec, 30 Nov 2007 | |   |   |
From http://one-state.net/, this multicolored horizontal striped flag for a 'One-State Palestine' may have some contemporary interest. Of course, it should be noted that the site is notoriously anti-Israel and anti-Zionist.
Ron Lahav, 27 Nov 2007
Purely in design terms (and in a politically-neutral sense), these are not bad proposals: they retain one distinctive element (the horizontal stripes) from both the Israeli ands Palestinian flags while dropping one other distinctive element from both (the red triangle and Magen David.)
Eugene Ipavec, 30 Nov 2007
---
"1state.org" Proposal