This page is part of © FOTW Flags Of The World website
Liberian subnational flags
Last modified: 2012-04-06 by antónio martins
Keywords: liberia | monrovia | coat of arms: quartered | coat of arms: chief | elephant (white) | key (white on black) | star: 5 points (faceted) |
Links: FOTW homepage | search | disclaimer and copyright | write us | mirrors

---
See also:External links:
---
About Liberian county flags
Counties
Design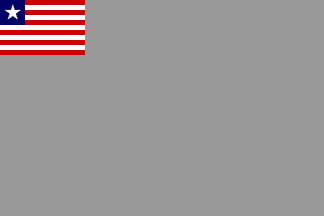 image by António Martins, 26 Jan 2004
Liberian county flag design includes always the national flag design on the upper hoist (about 1/4th size) and the remaining field filled with a particular design. While some show a particular element on the (lower) fly and an otherwise plain field (Bomi, Grand Bassa, Margibi), others use up the space in full. Sometimes the the national flag design on the upper hoist seems to be a part of the design (River Cess, Grand Kru), others it appears to have been added as an afterthought (Nimba, Maryland). Grand Cape Mount is something of an exception, with the national flag design yes on the upper hoist but not touching the border for design reasons.
António Martins, 26 Jan 2004
The basic motif, with the national flag in canton, is kept — as has happen also with the newer four flags (Bomi, Grand Kru, Margibi and River Cess); the only (partial) exception, Grand Cape Mount, is one of the original lot of nine.
António Martins, 30 Aug 2008
The book [smi75b] shows, I believe, the same shade of green for all these flags, but Montserrado is hard to judge, as it has the green directly against a greyish blue background.
Peter Hans van den Muijzenberg, 07 Sep 2009
Usage
Smith 1975 [smi75b] lists nine county flags (Bong, Grand Bassa, Grand Cape (so spelled!), Grand Gedeh, Lofa, Maryland, Montserrado, Nimba and Sinoe) and give this note to the presentation of those flags:
These flags were presented to the Liberian counties by President William V. S. Tubman on 29 November 1965, his seventieth birthday.
What happened whith those flags latter on? Were they "bunkered" in some county house safe, or hoisted in county official rooms, or whatever? Were they produced uniquely (only this once), or where there made more of such flags (even mass produced?). Were they used later on, say on stamps, tourist publications etc? And, finnally, what happened with the flags after the end of President Tubman rule?
Željko Heimer, 05 Jan 2000 and 18 Aug 2008

These flags are officially in use but rarely used out of the provincial government hedquarters.
Jaume Ollé, 11 Jan 2000

Though that the related flags were created in 1965 and even if the number of provinces increased since then, it is unlikely, considering the political situation of Liberia, that any additional flags were created after about 1990.
António Martins, 02 Apr 2003

Given that for the past several years Liberia has been engaged in a particularly nasty civil war, it would be interesting to know whether any of these provincial flags have been used by any of the various parties to this conflict, or indeed if they have used or are using any flags at all.
Ron Lahav, 29 Jan 2004
Reports of recent usage
It is nice to see a confirmation of these elusive flags, but I'd prefer a cloth flag photo, as it would be more real than just a web image nicked from somewhere.
António Martins, 18 Sep 2006
Does anybody have information on the current status of the Liberian county flags? Have they been used (in cloth) over the last, say 20-30 years? Or only (in transmogrified form) on the internet?
Marcus Schmöger, 05 Mar 2007
Photo of county flags, hoisted at the presidential palace, in the official website.
Jan Mertens, 13 Aug 2009
Nice to see these flags finally in use, for many reasons.
António Martins, 16 Aug 2009
Grand Gedeh
On the website of The Grand Gedeh Association in the Americas Incorporated the flag of the Grand Gedeh county is shown.
Valentin Poposki, 16 Jun 2006
Nimba
The flag of Nimba county is shown on the website of the UNICCO — United Nimba Citizens' Council.
Valentin Poposki, 16 Jun 2006
Montserrado
Here's an actual image showing the Montserrado County flag from the ForeignPolicy.COM website. The image caption says that «Josephine George-Francis, governor of Montserrado County, sewed the Liberian flag that hangs in her office». The actual usage of county flags seems to be confirmed.
Antonio Gutiérrez, 05 Mar 2007
---
Other subnational flags
Monrovia
conjectural ratio and size


image by Anónio Martins, 18 Feb 2012
Very interesting photo showing the central part of the flag of the City Corporation of Monrovia, Liberia, [at the official weblog].
Valentin Poposki, 15 Apr 2009
---
Anything below this line was not added by the editor of this page.