This page is part of © FOTW Flags Of The World website
Kingdom of Iraq (1924-1958)
Mamlakat al-Iraq
Last modified: 2012-03-11 by eugene ipavec
Keywords: star: 7 point (white) | royal standard | crown prince | inspector general of the army | chief of the general staff |
Links: FOTW homepage | search | disclaimer and copyright | write us | mirrors

---
---
---
See also:
---
Description of the Flag
Iraq's first flag was inspired by the flag of the Kingdom of Hejaz, and was in use at the time of independence in 1932. The flag was actually used before independence, from 1924 to 1959. The British occupied Baghdad on 10 January 1919. The allied supreme council created a British mandate on 25 April 1920 and the League of Nations approved it later. The British suppressed a major Arab insurrection in July-December 1920. Faisal, deposed king of Syria, arrived in June 1921, and the British proclaimed him King of Iraq on 23 August after a plebiscite voiced 96% approval. The British simultaneously changed the mandate into a protectorate. The Iraq flag adopted by Faisal in 1921 slightly changed the Sharifian flag: it was a black-white-green tricolor with a red trapezoid in the hoist and two 7-pointed white stars in the red.
T. F. Mills, 16 December 1997
The flag was used as national flag and state and civil ensign. The construction details are given in [Flaggenbuch as (2+2+2):12 with trapezoid height being 3. The seven-pointed stars are heptagrams of "sharpness" 1, they are inscribed in imaginary circles whose diameter is not given in Flaggenbuch, and is about 4/3 or so (measuring from the image). The centers of the circles appear to be in the midpoint of the heights from the trapezoid inner vertexes.
Source: [Flaggenbuch
Željko Heimer, 28 November 2001
---
Royal Coat of Arms

image by Juan Manuel Gabino Villascán
---
Royal Standard (1930-1958)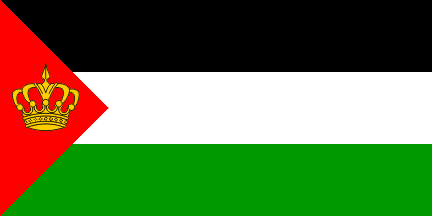 1:2 image by Željko Heimer
Black-white-green tricolour flag with a red triangle at hoist containing a golden crown.
Source: [Flaggenbuch
Željko Heimer, 28 November 2001
It should be noted that until 1930, Iraq was de jure ruled by Faisal and de facto ruled by the king's British advisors. Only in 1930 Iraq and United Kingdom signed a treaty which made Iraq an independent nation and Faisal I as its ruler de jure and de facto.
Dov Gutterman, 12 April 1999
---
Crown Prince's Standard
1:2 image by Željko Heimer
Similar to royal standard, but in a peculiar pennant shape.
Source: [Flaggenbuch
Željko Heimer, 28 November 2001
---
Chief of the General Staff of the Army
2:3 image by Željko Heimer
Green flag with two white seven-pointed stars placed one above the other.
Source: [Flaggenbuch
Željko Heimer, 28 November 2001
---
General Inspector of the Army
2:3 image by Željko Heimer
Red flag with a white seven-pointed star in the middle.
Source: [Flaggenbuch
Željko Heimer, 28 November 2001
---
Pilot Vessels
2:3 image by Željko Heimer
White over red bicolour.
Source: [Flaggenbuch
Željko Heimer, 28 November 2001