This page is part of © FOTW Flags Of The World website
Lanzarote Island (Las Palmas de Gran Canaria Province, Canary Islands, Spain)
Last modified: 2010-03-20 by eugene ipavec
Keywords: lanzarote | canary islands | coat of arms (cauldrons: 14) | coat of arms (cauldrons: yellow) |
Links: FOTW homepage | search | disclaimer and copyright | write us | mirrors

---
---
---
See also:
---
Other sites:
---
Description and Official Flag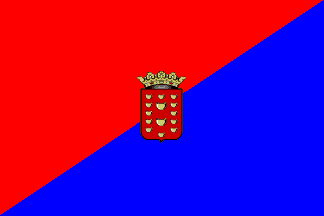 Official Flag
image by Santiago Dotor
Some months ago I posted an image of the Lanzarote unofficial flag. The flag was finally adopted but with diagonal arrangement (from lower hoist to upper fly), the hoist part is red and the fly is blue.
Jaume Ollé, 01 Sep 1998
The flag of Lanzarote is "party per bend sinister" red and blue (top hoist red, bottom fly blue). The flag is displayed throughout the island, so I am quite sure this is correct. Maybe it was like in FOTWws before but was later changed? The flag is displayed with or without the Lanzarote coat-of-arms, "gules two cauldrons in pale [I am not sure at all they are cauldrons] and twelve cauldrons in bordure all or," you can see it at the Lanzarote Cabildo Official Website. The flag with coat-of-arms is more common in official or semiofficial buildings, as can be seen in this picture of the Cabildo (Island Council) President. The (plain) flag is correctly shown in José Manuel Erbez's Symbols of the Canary Islands pages.
Source: personal visit to Lanzarote, May 1999
Santiago Dotor, 03 Jun 1999
La Gomera's coat-of-arms is "gules two cauldrons or in pale, a bordure gules fimbriated and charged with twelve cauldrons or; crest: a count's crown." It is my understanding that these arms have not been officially approved, but are traditionally used. They are the arms of the Herrera, who were Counts of La Gomera.
Lanzarote's coat-of-arms is "gules two cauldrons chequy or and sable in pale, a bordure gules charged with twelve cauldrons chequy or and sable; crest: a marquis' crown." They are the arms of Agustín de Herrera y Rojas, 3rd Lord of Lanzarote and Fuerteventura, named Count in 1567 and Marquis in 1584. The Arms were officially approved by the [Spanish] Council of Ministers on June 26th 1964.
As you may see, both Arms are related to Herrera families in different islands, though I ignore the precise relationship between them. (...) According to my heraldry sources, the Herrera Arms have eight cauldrons instead of twelve. As for the fimbriation in La Gomera's coat-of-arms, I ignore whether it is intended to make further difference with that of Lanzarote or is part of the local Herrera's Arms.
José Manuel Erbez, 21 June 1999 [editor's translation from Spanish]
However the coat-of-arms which I saw everywhere in Lanzarote in May 1999 had gold, instead of chequered gold and black, cauldrons – which makes it much more similar to the La Gomera one. As for the fimbriation, Lanzarote indeed does not use it, but then the supposed "bordure gules" disappears...
Santiago Dotor, 24 Jun 1999
You are right, the commonly used design in Lanzarote has gold and not chequy cauldrons. Actually the only place where I saw them chequy was in a tapestry placed years ago in the regional Parliament, with the coat-of-arms of the autonomous community and those of the seven islands. I shall try to find the agreement of the Council of Ministers to see what does it say literally.
José Manuel Erbez, 24 June 1999 [editor's translation from Spanish]
---
Former Proposal