This page is part of © FOTW Flags Of The World website
German Confederation 1848-1852 (Germany)
Deutscher Bund, flag used only 1848-1852
Last modified: 2012-10-08 by pete loeser
Keywords: germany | german confederation | bund | ensign: war | jack | hambach festival | text: german | text: deutschlands wiedergeburt | text: germany's rebirth | canton (yellow) | eagle (black) | subnational |
Links: FOTW homepage | search | disclaimer and copyright | write us | mirrors

---
German Confederation State Flag - Bundesflagge
also German Confederation Civil Ensign - Handelsflagge
Image by António Martins
Bundesflagge Flag adopted 9th March 1848, Handelsflagge Ensign adopted 12 November 1848, both abolished 1867
On this page:
See also:
---
Introduction
The German national revival that accompanied the defeat of Napoleon, together with the spread of liberal ideas caused largely by the French Revolution, created in Germany a relative weakening of dynastic and particularistic loyalities and a strengthening of national feelings, particularly among the youth. When, in 1816, a student organization covering all the German-speaking universities was formed it adopted a black over red over gold tricolour, believing (to judge by the accompanying rhetoric) that these were the traditional colours of Germany. Why they thought this is less clear, especially since the Hapsburg emperors, when they used colours as decorations, used black and yellow, i.e. without the red. Of course, in a way this may have influenced the matter, since the Hapsburgs continued to use black and yellow even after the end of the Holy Roman Empire. There appear to be several theories:
The most popular associates it with the uniform of Lützow's Free Corps, a popular 1813 unit formed mostly by young people from all of Germany (thus, not limited to one or another state). This was black with red facings, the gold allegedly coming from the gold buttons.
A second theory was that it blended the red of liberty with the imperial black and yellow.
A third traces it to the colours of one of the student organisations at Jena.
Since all of these explanations are several years after the fact, I doubt all of them as the explanation. What is known is that once introduced and identified as the old German colours, the notion of black-red-gold as the German colours simply caught on. From then until 1848, the black-red-gold was carried, sometimes with inscriptions like "Germany's rebirth" [Deutschlands Wiedergeburt] in countless popular demonstrations.
After the success of the revolution in Paris in 1848, there were popular demonstrations and demands for constitutional changes, which the alarmed rulers hastened to grant. On March 7, 1848, the diet of the German Bund (league) adopted the black-red-gold tricolour as its flag; from its formation in 1815, the Bund —the confederation of the 39 German states— had not had a flag. When the first elected German National Assembly (Nationalversammlung) met in Frankfurt, it adopted the black-red-gold as national flag and a two-headed uncrowned black eagle armed gold as the coat of arms (Smith 1975, p.119). By the law of 13 November 1848, the black-red-gold was adopted as the ensign (Smith 1975, p.119). The use of state and local flags, along with the national merchant flag, was authorized. The above flags served as the flags of the provisional central authority in Frankfurt from 1849 to 1852, when the Prussians succeeded in restoring the status quo ante (actually this occurred in several steps). Since, nevertheless, the flag laws were not repealed, many people continued to regard the black-red-gold as really the German flag. It was flown at the German Princely Conference (Fürstenstag) at Frankfurt in 1863. It was also accepted as the common flag of the alliance of South German states led by Austria during the War of 1866 and was used as armband by the 8th German Army Corps during that unsuccessful war.
Norman Martin, 14 January 1998

The black-red-gold flags of 1848 were really in more or less official use as long as the Provisional Authority in Frankfurt lasted (roughly 1852), but were never formally abolished and hence were considered by some still to exist as late as 1866, or even later.
Norman Martin, 13 January 1998

With the foundation of the German League, its diet which consisted of the princes or (more usually) their ambassadors was named the Bundestag. It met in Frankfurt. This is the organization that adopted the black-red-gold flag 9 March 1848. Later that year, the first German national elected pariament, the deutsche Nationalversammlung [German National Assembly], met and adopted that flag as Nationalfarben [national colours] and on 31 July and 13 November 1848, as Handelsflagge and with a canton, as ensign.
After the end of 1852, the Provisional Central Authority was abolished and the old Bundestag reestablished. In the period until 1866, it apparently continued although for reasons I do not know, most of the references I have to the gathering of the representatives of the princes (occasionally, some of the princes themselves) seem to call it the Bundesversammlung [Federal Assembly]. One such meeting, in 1863, was called the Fürstentag [Princes' Assembly]. At least so far, I am unclear what the difference between Bundestag, Bundesversammlung and Fürstentag may have been.
Norman Martin, 5 October 2000
---
German Confederation War Ensign
Kriegsflagge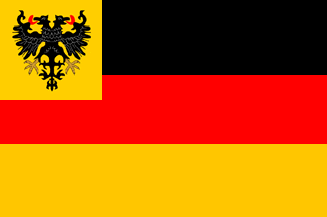 Image by Jaume Ollé
Flag adopted 12th November 1848, abolished 1867
The war ensign of the German League (Deutscher Bund) was black-red-gold with a black eagle in a gold square in the canton (1848-1852). Without the canton it was the national flag and merchant ensign.
Pete Loeser, 16 August 2012
---
German Confederation Naval Jack
Gösch
1:1
Image by Jaume Ollé
Flag adopted 12th November 1848, abolished 1867
A jack is a flag that looks like the union or canton of a national war ensign (see the "German Confederation War Ensign" above as an example). On warships, the jack is flown from a flag pole (jack-staff) located on the vessel's front end (bow) when at anchor or in port.
Pete Loeser, 16 August 2012
---
German Confederation Rank Flags
The German editors of Norie and Hobbs 1971 added two charts (which were not originally in Norie and Hobbs 1848) with German flags that were important over time. One of them is no. 5, Deutscher Bund 1848: Handels- und Admiralsflagge (German Confederation 1848: Merchant and Admiral's Flag), as the flag at the top. Another is no. 9, Deutscher Bund 1848: Kommodorestander (German Confederation 1848: Commodore's Pennant), as the Confederation flag but swallowtailed.
Peter Hans van der Muijzenberg, 12 November 2001
---
German Confederation Navy Commissioning Pennant
The German editors of Norie and Hobbs 1971 added two charts (which were not originally in Norie and Hobbs 1848) with German flags that were important over time. One of them is no. 6, Deutscher Bund 1848: Wimpel (pennant), red with the jack in the hoist.
Peter Hans van der Muijzenberg, 12 November 2001
---
"Germany's Rebirth" Flag at Hambach Festival 1832
Deutschlands Wiedergeburt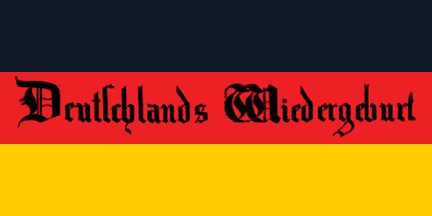 Image by Jens Pattke, 19 August 2011
I am looking for the history (and a picture) of a specific German flag. I am not sure of the time period that it was used in. Its appearance is like the modern German flag, with the exception that is has the words Deutschlands Wiedergeburt in the red stripe.
Alexander Steib, 25 April 2000
This flag is illustrated in Smith 1975, p. 119 with the caption: "Germany's Rebirth" is the promise of the banner carried in the Hambach festival in 1832. Smith 1975 also says in pp. 117-118: Students and others who hoped for German unification, impatient with the conservative policies and dilatory methods of existing rulers, held a great festival in Hambach in May 1832 where the new Black-Red-Gold came into its own as the symbol of their cause. Inspired by the 1830 revolution in Paris, which had reestablished the French Tricolor, thousands demanded the abolition of state borders and the democratization of Germany; they were met by repressive police measures. While no immediate practical results in their campaign were obtained, the spirit of Hambach remained an important force thereafter and the new flag, heralded in popular songs, became firmly entrenched as the rallying symbol of German unity.
Santiago Dotor, 28 April 2000
I found further information on this flag and festival from the Institute for Historical Geography, Universitate of Mainz (Institut für Geschichtliche Landeskunde an der Universität Mainz e.V.). The Institute is the official investigators of the events of the Historical Hambach Festival. An actual photo of the flag can be found in an article at Das Hambacher Festi: Ablauf (German text only).
Jens Pattke, 19 August 2011
---
Constituent States
From François Velde's Heraldica website:
The Deutscher Bund was created by a treaty of 8 June 1815, which was included in the final act of the Congress of Vienna of the next day. The 36 founding members were:

The Emperor of Austria-Hungary.
The Kings of:

The Elector of Hessen.
The Grand-Dukes of:

The Dukes of:

Sachsen-Gotha (extinct 1825).
Sachsen-Coburg-Meiningen (Sachsen-Meiningen-Hildburghausen after 1826).
Sachsen-Hildburgshausen (Sachsen-Altenburg after 1826).
Sachsen-Coburg-Saalfeld (Sachsen-Coburg-Gotha after 1826).
Anhalt-Dessau (Anhalt-Dessau-Cöthen after 1853).
Anhalt-Bernburg (extinct 1853).
Anhalt-Cöthen (extinct 1847).

The Princes of:

the Free Cities of:
There were very few modifications afterwards. Württemberg and Baden joined shortly thereafter (26 July and 1 September 1815). Hesse-Homburg, previously under sovereignty of Hessen-Darmstadt, joined 7 July 1817.
In 1839, as a result of the secession of Belgium and part of Luxemburg from the Netherlands, part of the Dutch province of Limburg (less Maastricht) was declared to be held by the king of Netherlands as grand-duke of Luxemburg... After the "War of the Duchies" Denmark lost Holstein and Schleswig (30 October 1864) and effectively ceased to be a member.
The Confederation survived until it was torn apart by the conflict between Prussia and Austria. On 14 June 1866, the Prussian government declared the Confederation to be dissolved and declared war on Austria. The ensuing war resulted in a rapid and crushing victory for Prussia. Austria was defeated and signed the peace of Prague (23 August 1866) recognizing the end of the Confederation...
Santiago Dotor, 4 July 2001
---