This page is part of © FOTW Flags Of The World website
City of Bielefeld (Germany)
Stadt Bielefeld, Northrhine-Westphalia
Last modified: 2013-06-18 by klaus-michael schneider
Keywords: bielefeld | brackwede | quelle | ummeln | dornberg | sparrenberg | inescutcheon | chevrons(3) | wall(embattled) | tower | mountain | trees(3) | wheel | coronet |
Links: FOTW homepage | search | disclaimer and copyright | write us | mirrors

---
3:5
image by Klaus-Michael Schneider, 19 Nov 2007 See also:
---
City of Bielefeld
Historical City Notes
Bielefeld was mentioned first in 1015, when a man named Tieni sold his acres to the bishopric of Paderborn. In 1214 count Hermann of Ravensberg founded a settlement and granted to it the rights of a city. Between 1240 and 1250 Sparrenberg castle, usually known as Sparrenburg was erected by count Ludwig of Ravensberg. In 1293 count Otto III and his wife Hadwig established an abbey, the core of Bielefeld New Town (Neustadt).
In 1346 Ravensberg kin died out. Bielefeld became part of Jülich in 1348 and later of Kleve (1511). In 1520 Bielefeld and Bielefeld New Town merged.
In 1614 Bielefeld became part of the electorate of Brandenburg, the process of incorporation was finished in 1647. Bielefeld became a boom town under Brandenburgian rule, when the linen industries were established by the electors. The city was in favour especially by the Great Elector.
From 1806 until 1813 Bielefeld became part of the kingdom of Westphalia, a French puppet state, ruled by King Jerome (by the locals aka "King Funny", although life wasn't funny at all in those years), a brother of the French emperor Napoleon I.
In 1816 Bielefeld became capital of a Prussian county district. In 1878 Bielefeld dropped out of the county and became a county free city.
In 1973 the city of Bielefeld, the main part of Bielefeld county and a minor part of Halle (Westfalen) county merged.
Source: "750 Jahre Bielefeld - unsere Stadt im Wandel der Zeit", Sonderbeilage of Freie Presse, a local newspaper, Bielefeld 1964
Klaus-Michael Schneider, 4 Jul 2011
Bielefeld Flag with Coat of Arms
Description of flag:
The flag's ratio is 3:5. It is a red over white horizontal bicolour with the coat of arms in its centre.
Description of coat of arms:
In a golden (=yellow) field is a red, embattled wall masoned black. The wall is topped by two red, embattled towers having eight open (=black) windows and four pinnacles each. In an open arc of the wall is a silver (=white) inescutcheon bearing three red chevrons.
Approved: 17 July 1978 by Regierungspräsident Detmold
Source: Veddeler 2003, p.347.
Klaus-Michael Schneider, 19 Nov 2007
Historical Flag Notes
The chevron shield is that one of the counts of Ravensberg, count Hermann of Ravensberg established the city of Bielefeld in 1214 as his new capital with privileges according to the version of Münster/Westphalia. 1293 the base of Bielefeld New Town was founded by count Otto III. and his wife Hadwig. 1520 both cities merged. The image from the coat of arms existed on the cities seals since 1231.
Since 1336 there also existed seals of New Town, showing an image of St.George with lance and shield. There is however nothing known about the existence of a flag. It is known since 1701, that the city used a coat of arms with a black gate with a portcullis and the chevron-shield in a silver field. It was topped (?) by a crown and had two lions as supporters. In the 19th century the tincture of the walls was changed into light grey for some funny reasons. In 1890 the shield was modified again, showing a "stonegrey" gate in a golden shield. The whole was topped by a mural crown. Hupp (Deutsche Ortswappen) and Meyer (Wappenbuch) had published a version with a red gate, which was proposed by Roth a little bit earlier, because gold besides stonegrey didn't match basic rules of heraldry. This version was used and finally became official in 1939.
The colours red and white in the flag had been used since the shooting-match (German: Schützenfest) of 1831. It was a revival of the Ravensberg colours. The city chose these colours as theirs officialy in 1833. The colours of the old flag, being black and white, had nothing to do with the colours of Prussia, as I claimed here earlier.
According to Veddeler they were based upon the tinctures of the old coat of arms. This connection had been simply forgotten.
Klaus-Michael Schneider, 19 Nov 2007
Bielefeld Banner#1
5:2 image by Stefan Schwoon, 22 Feb 2001

Vertically red-white with the coat of arms in the centre and shield according to Stadler.
Sources: Staack 1997 and Stadler 1972., p.25
Stefan Schwoon, 22 Feb 2001

From Ralf Hartemink's International Civic Arms website:
The oldest seals of the city date from 1231 and 1263. These already showed a gate, which has been also used as the arms ever since. The actual picture of the gate has changed often during the centuries.
Literature: Stadler 1972, p.25
Santiago Dotor, 18 Dec 2001
Bielefeld Banner#2
image by Klaus-Michael Schneider, 19 Nov 2007

Description of flag:
It is a red - white vertical bicolour, The coat of arms is shifted to the top. This variant has the usual shield, called Halbrundschild, e.g. depicted by Veddeler.
Source: Veddeler 2003, p.347.
Klaus-Michael Schneider, 19 Nov 2007
Plain Flag reported 1972
image by Klaus-Michael Schneider, 7 Jul 2007

Description of flag:
The flags ratio is 3:5. It is a red over white horizontal bicolour.
The flag was used since the beginning of the 19th century. The city then had the same colours as the Prussian province of Westphalia.
Source: "Deutsches Städtebuch, Bd.III 2 Westfalen"; Hrsg: Stoob Stuttgart 1954.
Klaus-Michael Schneider, 7 Jul 2007
Bielefeld Flag until 1833
image by Klaus-Michael Schneider, 7 Jul 2007

Description of flag:
The flags ratio is 3:5. It was a black over white horizontal bicolour.
Source: Veddeler 2003, p.347.
Klaus-Michael Schneider, 7 Jul 2007
Sparrenberg Castle Flag
image by Klaus-Michael Schneider, 5 Jul 2011

Description of flag:
The flags ratio is 1:1. It is a white flag divided by three red chevrons. It is an armorial flag, showing the arms of Ravensberg kin, who died out in 1346. The castle was erected by count of Ravensberg.
Source: I spotted this flag various times.
Klaus-Michael Schneider, 5 Jul 2011
---
Borough of Brackwede
Brackwede Borough Flag
speculative image by Klaus-Michael Schneider, 29 Jun 2007

Brackwede had been the "biggest village of Europe" since it gained the title of a city in 1956. In 1970 some other municipalities had been incorporated to Brackwede. In 1974 the city became a district of Bielefeld.
Description of flag:
The ratio of flag is 3:5. It is a red over white over red flag with the coat of arms in its centre. The flag was abolished, when the city became a part of Bielefeld.
Description of coat of arms:
In a silver (=white) shield three trees with silver(=white) stems and green leaves are standing upon the peaks of a red mountain, upon which a silver (=white) wheel with six spokes is superimposed. Above all is a red chevron touching the top edge of the shield.
Meaning:
The chevron was taken from the coat of arms of the counts of Ravensberg, who had been the sovereigns until 1346. Mountain and trees are symbolizing the location beneath the Teutoburger Wald. The wheel is a symbol of trade and industry. The coat of arms was granted in 1950. The Amt Brackwede used the same shield without the wheel since 1936.
Source: Stadler 1972, p.29
Klaus-Michael Schneider, 29 Jun 2007
Brackwede Borough Flag#2
3:5 image by Jörg Majewski, 15 Mar 2013
Brackwede Borough Banner
image by Klaus-Michael Schneider, 19 Dec 2009

Description of banner:
The ratio is approx 3:8. The banner is vertically divided into red-white-red with ratio approx 2:5:2. The coat of arms is within the white stripe and shifted to the top that way that the part above the shield is approx 1/3 of the part below.
Source:this website
You can see the banner hanging at a crane of the local fire brigade volunteers. The photo was made on 17 May 2009 during the fire brigade's road show.
Klaus-Michael Schneider,19 Dec 2009
Brackwede-Quelle Borough Flag
3:5 image by Jörg Majewski, 15 Mar 2013

Description of flag:
The white flag is limited by red, horizontal stripes on the top and bottom. The coat of arms is in the centre of the flag within the white stripe.
Description of coat of arms:
In a silver (= white) shield are three red chevrons superimposed by a silver tower.
Meaning:
The chevrons had been the arms of the Counts of Ravensberg. The tower displays the Three Emperors' Tower (Dreikaiserturm) on top the Hünenburg Mountain. The tower was erected between 1888 and 1894 an demolished in 1952, when it was replaced by a telecommunication tower.
Quelle was a rural municipality and first mentioned in 1221. Later metal processing, especially copper mallets, became the main business line. Quelle was incorporated into the city of Brackwede on 1 January 1970 and together with Brackwede became a part of Bielefeld on 1 January 1973.
The flag is of the same type like the flag of Brackwede.
Source: Heinz-Hugo Haarmann: "150 Jahre Landkreis Bielefeld 1816 - 1966", pp.20/58
Klaus-Michael Schneider, 15 Mar 2013
Brackwede-Ummeln Borough Flag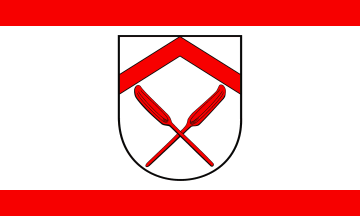 3:5 image by Jörg Majewski, 15 Mar 2013

Description of flag:
The white flag is limited by red, horizontal stripes on the top and bottom. The coat of arms is in the centre of the flag within the white stripe.
Description of coat of arms:
In a silver (= white) shield is a red chevron. Beneath the chevron are two red oven peels crossed per saltire.
Meaning:
The chevron is a reduction of the arms of the Counts of Ravensberg, which displayed three chevrons. The meaning of the peels is not known, but might allude to agriculture or grain. Ummeln was incorporated into the city of Brackwede on 1 January 1970 and together with Brackwede became a part of Bielefeld on 1 January 1973.
The flag is of the same type like the flag of Brackwede.
Source: Heinz-Hugo Haarmann: "150 Jahre Landkreis Bielefeld 1816 - 1966", p.58
Klaus-Michael Schneider, 15 Mar 2013
---
Borough of Dornberg
3:5 image by Jörg Majewski, modified byKlaus-Michael Schneider, 15 Mar 2013

Description of flag:
The white flag is limited by narrow, yellow, horizontal stripes on the top and bottom. The coat of arms is in the centre of the flag within the white stripe.
Description of coat of arms:
In a silver (= white) shield are three red chevrons superimposed by a golden (= yellow) coronet.
Meaning:
Dornberg today is a borough (Stadtbezirk) of Bielefeld, including the municipalities of the former Dornberg Subcounty (Amt Dornberg) and the bigger part of the former municipality of Schröttinghausen, which had been divided between Bielefeld and Werther on 1 January 1973. The number of inhabitants increased from about 9,000 inhabitants in 1966 (without Schröttinghausen) to more than 19,000 inhabitants in 2010. The shield is the coat of arms of the former subcounty. The chevrons had been the arms of the Counts of Ravensberg. The meaning of the coronet is not known. Dornberg had been a parish since the early medieval. The municipalities had been founded between 974 and 1224. On 30 December 1843 the Dornberg Subcounty had been established by the Prussian government. The villages and manors became independent rural municipalities in 1845.
Though rural municipalities in Prussia were not entitled to have proper arms, all the municipalities of the former parish had already and were obviously allowed to keep them. All municipalities had the same type of shield and the same coronet, but the number of Ravensbergian chevrons was reduced from three to one. Every municipality had an own marc of cadency on the base of the shield beneath the coronet. Those were
1) a pair of croziers crossed per saltire (Hoberge-Uerentrup), which probably symbolized that one of both cores - Uerentrup - had been a domain of the monastery of Marienfeld.
2) three fleur de lis ordered 2:1 (Großdornberg)
3) three annulets ordered 2:1 (Babenhausen). Babenhausen is the oldest village first mentioned in a deed about a barter agreement on 19 April 974.
4) a pair of keys crossed per saltire (Kirchdornberg). The keys are an attribute of St.Peter. The parish church was located in Kirchdronberg and dedicated to St.Peter. The church was completed around 760 and is one of the oldest churches in Westphalia.
5) a saltire topped by a Latin cross (Niederdornberg-Deppendorf)
According to Veddeler 2003 the arms of the municipalities and the subcounty were approved by the minister of interior of Northrhine-Westphalia in 1958.
Source: Heinz-Hugo Haarmann: "150 Jahre Landkreis Bielefeld 1816 - 1966", p.59
Klaus-Michael Schneider, 15 Mar 2013
---
back to index of Northrhine-Westphalia county-free cities and counties page click here