This page is part of © FOTW Flags Of The World website
Canada - First Nations (Canada)
Aboriginal Peoples
Last modified: 2012-01-13 by rob raeside
Keywords: canada | first nations | metis | inuit | micmac | iroquois | mohawk | pequis | siksika | mi'kmaq | mathematics |
Links: FOTW homepage | search | disclaimer and copyright | write us | mirrors

---
See also:
Cree
Iroquios Confederacy
Nuuh-Chah-Nulth Tribal Council
Outside links:
---
First Nations
Aboriginal Peoples is the collective name for the original inhabitants of North America and their descendants. According to the Canadian Constitution Act of 1982, the Aboriginal Peoples of Canada are:
First Nations
Inuit
Metis
There are nearly one million Aboriginal people in Canada.
First Nations are the largest Aboriginal group in Canada, comprising more than 600,000 people. The term First Nations represents the first peoples of Canada, and their descendants, who are neither Inuit, nor Metis. First Nations includes many culturally diverse groups living across Canada. For example: There are 11 First Nations linguistic families, including 53-70 languages.
The term First Nation has been adopted to replace words such as Indian, Native, Tribe, and Band, which are still commonly used by federal, provincial, and territorial governments.
First Nations people and First Nations communities often use the name of their Nation to describe who they are. For example: Dakota, Dene, Ojibwa (Anishinnabe).
Métis are a distinct cultural group composed of people of mixed Aboriginal and European ancestry. In the 2001 Census, 292,000 people identified themselves as Métis. Although the Métis are recognized as one of the three Aboriginal peoples of Canada, most Metis people use the word Metis to define themselves and not Aboriginal.
Metis are excluded from registration under the Indian Act. With the exception of the Metis of the Alberta Metis settlements, there are no formal ways of registering the Metis.
Who are the Inuit?
In Canada, Inuit is a general term used to identify a group of Aboriginal Peoples who live primary in Nunavut, the Northwest Territories, Yukon, and northern parts of Labrador and Quebec. There are approximately 45,000 Canadian Inuit, and they share a common language and similar culture.
Like the Metis, the Inuit are excluded from registration under the Indian Act.
Only Aboriginal Peoples who are registered under the Indian Act receive treaty benefits, meaning that neither Metis nor Inuit qualify.
Kim Scaravelli, 11 July 2008
---
A First Nations flag
image by Jaume Ollé

Canadian natives do have a flag, I've rarely seen fly - there is an example in the window of the Army surplus store (FS as merchandise) and once on a news report from a native reserve - it is the usual Canadian flag with the image of a native man/chief/warrior (I'm not sure, I'm not native, so I don't know what he is supposed to be) superimposed on the flag.
David Kendall - 1997-12-02
---
If I remember correctly this flag is hoisted with several patterns. I made a drawing some years ago from a flag seen in photo or TV with the Indian Saskatchewan figure but I believe that other figures are also used. The image is very simple: Canadian flag with a head of a Indian chief in white part.
Jaume Ollé, 24 January 2000
---
Canadian-Indian flag being sold in Australia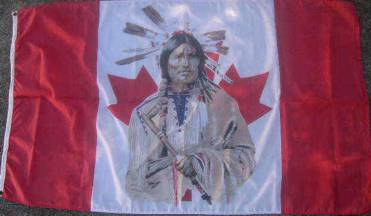 image contributed by Bill Garrison, 23 March 2007